Day 4 – (Monday, May 6th) our third full day in Seoul
Today we did a lot of things!
First, I started my morning waking up before Dree and taking a walk around the neighborhood. Our neighborhood in Gangnam was a nice and busy area. If you turned up the street to the right you ended up on a main street, subway and big chain stores. If you took a left, you ended up walking by schools, smaller 1 level shops, older people walking to the park… on this day I spoke to some older people and went to a work out park. Then finished up by taking Dree some breakfast from a French café. I used my Go Pro and talked to is like it was a friend filmed the area.
After returning, eating and getting ready for the day, we ventured out to another area of Gangnam, to meet an internet friend from the UK, and walk around the Star Road area. To be honest, the area is lacking, and you could easily skip it. But we did a lot of walking around here, then we went over to the area where several of the Entertainment companies are. Pledius, FNC, A-Team, and another SM Building.
Now what is interesting, is upon finding the SM Building, we noticed the park across the street which we believe is the one where Ten, Lucas, Kun, Jungwoo (from NCT) did the Vlive in the park. We hung out there for a bit and used the exercise machines.
We took a bus over to the area closer to the big Line Store, and spent some time looking at all 3 floors and getting some purchases. Walking alone the area we noticed some really cool café's and pop up shops.
We had lunch at Paris Baquette because our UK friend said it was a nice place to get a sandwich or salad for lunch. It was tasty and we went to a few more during our trip for light meals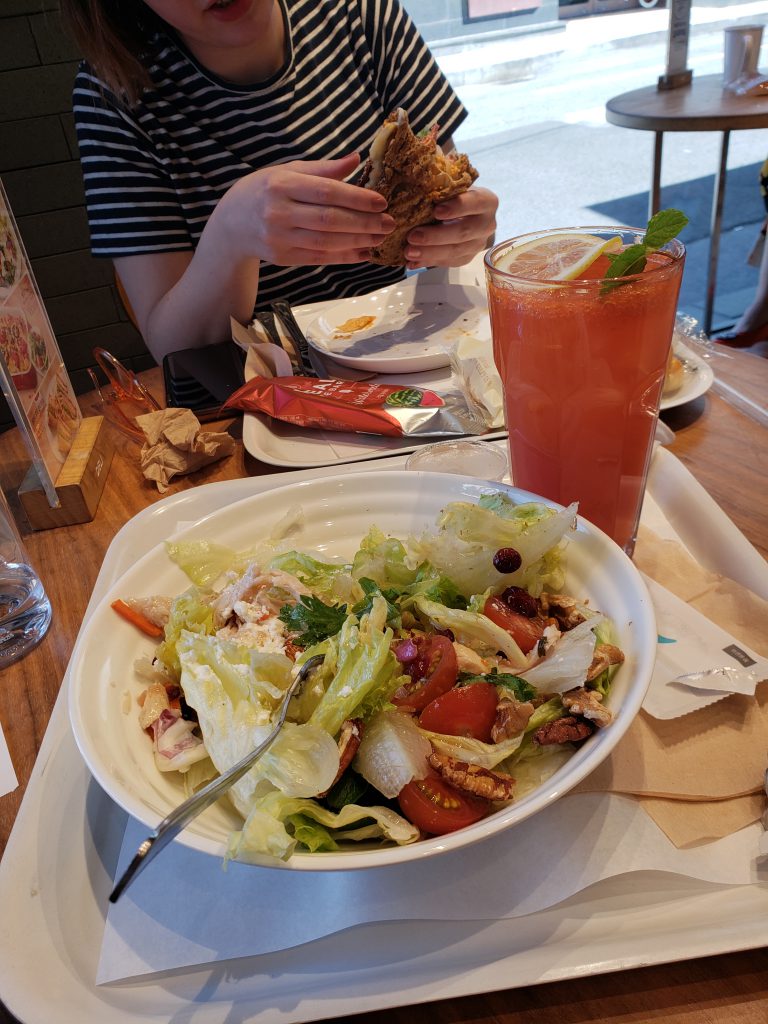 After lunch, we walked to where the Comic Book café is that BTS filmed at a few times. We paid for an hour, got some drinks and found a "Bunk" that was empty and took off our shoes and I layed down and rested and Dree picked out some comic books to read. The bunk is neat, you can bring a laptop or phone and charge them up if you want, get some food, whatever you want to do.
After the comic book café, we did more walking (we learned after these days to take the bus and subway more because we were exhausted). We walked over to the area where the Starship/Cre.Ker building was. Then we walked home and rested up.
For dinner, we went to a nearby Korean BBQ place and our bill was only 25,000 won (which is around $23). The weather and fun was so good today, we were happy.
Pork belly, spicy salad, seawood soup, the works!
Go to Day 5