Day 0 – SEATTLE to SEOUL (Thursday, May 2, 2019)
We selected a good time of day to fly out of town, 1:10pm. We had plenty of time to arrive well rested and not rush. Our flight was on Korean Airlines, (Boeing 777-300ER) and a 11:30 hour direct flight.
We had travel goodies left in our seat as we arrived, and the cabin staff was so attractive and nice. We had slippers, headphones, hand wipes, warm face cloths, water, and a toothbrush and toothpaste to use for the flight. They took good care of us during our flight and provided yummy food and drinks. We were also amazed at the legroom our economy seats had. I was excited to see some KPOP videos and music on their in-flight entertainment, I actually spent more time watching the entertainment instead of sleeping. Oops. For our meals we got to have Bibimbap and seaweed soup, fruit, wine and a few other items. Overall the meals were decent.
Day 1 – We arrived the next day (Friday, May 3rd) at 4:40pm.
We breezed through Customs and Immigration and got our bearings for our first-time arrival in an Asian country. I was amazed by how nice the airport (and bathrooms) were. We made our way over to pick up our Wifi Egg so we can have service on our phones, pick up our Seoul Pass and find the airport busses. All were pretty easy to find and everyone spoke enough English to help us make the right choices.
The Airport busses are a good choice, as long as you don't have a deadline to meet. Ours took well over an hour, maybe 90 minutes or longer. They are very comfortable and inexpensive (around $15/pp) . The biggest benefit in taking them, is that each bus takes you to a different part of Seoul. So you need to know the route and closest stop. Our stop was about a 5min walk to our Airbnb, so very convenient with luggage. The drivers have a specific route and make a stop at each "bus stop", get off and take your luggage out from under the bus, and send you on your way.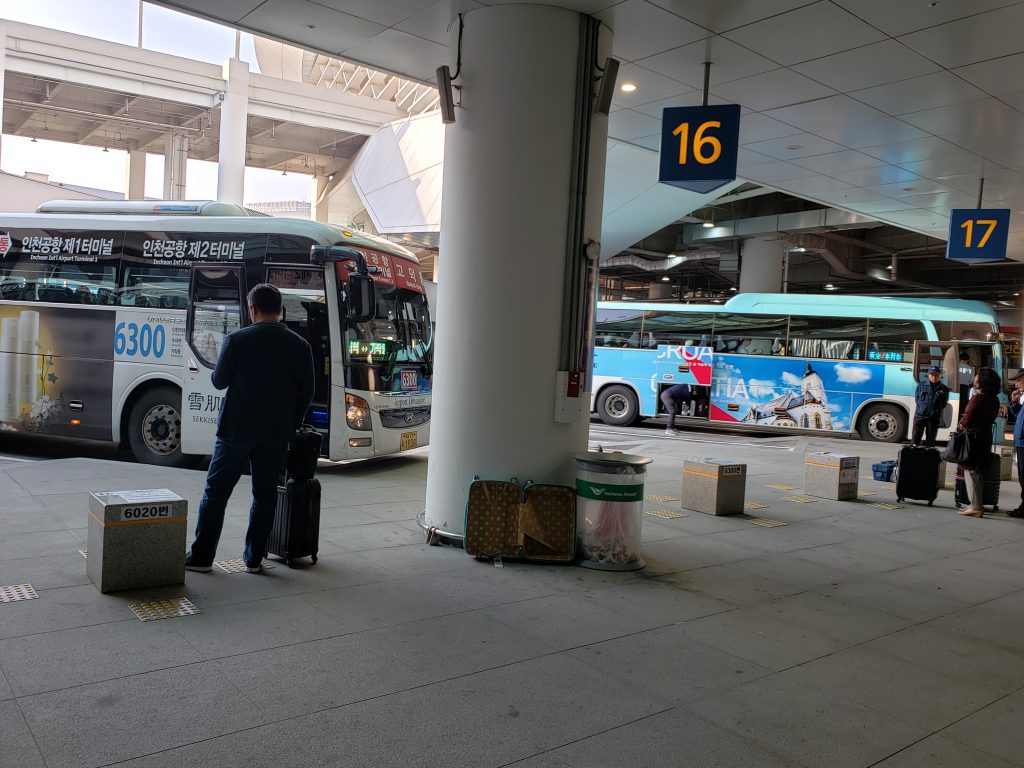 We found our building easily, but there were multiple elevators and we hadn't written down our floor/apt. number, but our AirBnb owner was very quick on responding thru the app, so glad we had that Wifi Egg!
Once we found our apartment and typed in the code, we were in a very nice but cozy place. It had everything we could need (slippers, towels, umbrellas, printer) and even some starter snacks had been left for us. We were still full from our last meal on the plane, but we wanted to venture out and look for a market to pick up some snacks and drinks to keep in our room. We checked our NAVER app and found many on our block. We ended up at a 7-11 where we added money to our Transportation Card (T-Money) and purchased the required Soju, bananas and few other snacks.
We settled in to rest and get ready for our first full day in Seoul.
Next up – Day 2
INDEX of Seoul Trip –
Day 2 SM Marketplace and Sum Cafe
Day 3 Fashion Festival at COEX
Day 4 K*Star Road, Line Friends, Comic Book Cafe, entertainment companies
Day 5 Royal Tombs, The Show, Hongdae
Day 6 New AirBnb and Myeongdong
Day 7 Changgyeonggung and MNET Countdown
Day 8 SM TOWN and Museum, Coex Aquarium
Day 9 Namsan Tower w/ Hanboks, Leeum Museum of Art in Itaewon
Day 10 Mother's Day – Starbucks, Gyeongbokgung Palace, Korean Folk Msm., Bukchon village, Lotte World Tower & Mall, Seoul Sky
Day 11 Dongdaemun Design plaza, Doota Mall, Innisfree Green Cafe, Simply KPOP
Day 12 The Show (again), Hongdae and busking
Day 13 DragonHill Spa, Onion Cafe & Tiger Wall in Seongsu-dong, Lotte World Amusement Park